Hello, friends!

We're almost halfway through our nomadic journey (how crazy is that?!) and we're working hard to make the most of our time in Europe before our crossing back to the States in December aboard the QM2.

Banjo managed to scratch up his eye pretty badly whilst galavanting through the forests of Switzerland (as one does), and it was refusing to heal despite a couple vet visits and medications. The vet in Porlock did a minor surgery that seems to have worked, so the good news is that he's on the mend...although still in the cone of shame.

Psst! This month's update has an extra special section towards the end that you won't want to miss!

After leaving Wellingborough at the beginning of the month, we did our first return housesit! Lis and Carl invited us back to look after Oscar, and we were so excited to spend more time with them (and Lis's mum, Sheila!) and enjoy the gorgeousness that is the Cotswolds in Spring.

After leaving Ilmington, we made our way back down south to Porlock. We had a lovely evening with Karen, Graeme, and Graeme's mum Tess (we housesat for them in December), catching up and talking about travel adventures with dogs! Afterwards, we spent the better part of two weeks (our housesitting plans changed) being super grateful for the hospitality of the local parish rector, Bill, and his wife Daphne, whom we got to know in December. Hans "earned our keep" by doing lots of chores for Daphne!

Then, we journeyed north towards Scotland. We stopped for a night in Manchester to visit Rachel's dear friend Katherine and then made our way to Coatbridge, where we are now. We're watching a darling little 17-year-old Yorkie named Rosie, who sounds like a baby Teletubby when she coughs.

After our time in Scotland, we're looking forward to heading back to Wellingborough for the month of July to spend more time with Paul and Sarah, and their darling girl Poppy!
On to the photos!
1. Hans standing next to the purplest tree we've ever seen at Hidcote Garden near Ilmington
2. Getting ready for a walk with Oscar and Banjo
3. Banjo overlooking Porlock Bay
4. Dunster Castle, which sits atop a hill overlooking the Bristol Channel and Exmoor. Fun fact: a castle has existed here since Norman times!
5. Our beloved Porlock
Most Interesting Things We've Done or Seen

Hans' favorite: seeing the difference between winter and spring in the Exmoor landscape and foliage as we walked down to the Weir for dinner at the Bottom Ship pub

Rachel's favorite: still not over the Royal Wedding...

Mutual favorite: enjoying the beauty of England in bloom, and spending lots of time with some of the kind and wonderful people we met earlier in our journey!
Best in Food

After returning from Spain, Lis and Carl treated us to a delectable dinner at their favorite Italian inspired restaurant in Chipping Camden, Huxley's. For appetizers, we enjoyed baked fondue, sun-dried tomatoes, tangy Tzatziki and pita, and our new favorite cheese, halloumi. Hans had a burger and fries because he was feeling a little homesick, and Rachel can't remember what she had because the conversation was so darn good. We topped the evening off with tiramisu and coffee, and even got a little Cotswold history lesson from Carl on the drive!
Special Wedding News!
We kept a little secret from all of you...when we were in Paris in March, Dean (Rachel's dad) proposed to Roxann! At the end of our bike tour and picnic, Hans, Leo, and Rachel conveniently "forgot to get dessert" and scampered off, leaving Dean and Roxann by the banks of the Seine. Apparently, Dean had some lovely things to say, Roxann said yes, a sparkly ring was pulled out, and a passing boat of tourists cheered! When we got back, Rachel had to peek over the embankment wall to make sure we wouldn't interrupt, and then the five of us celebrated with macarons and taking lots of pictures. They're getting married in June!
Congratulations, Dean and Roxann!!!
Oh, and Rachel went to the Royal Wedding.
Read more about her (amazing, beautiful, once-in-a-lifetime) experience right here. Special thanks to our Ilmington friends for keeping an eye out for Rachel on TV!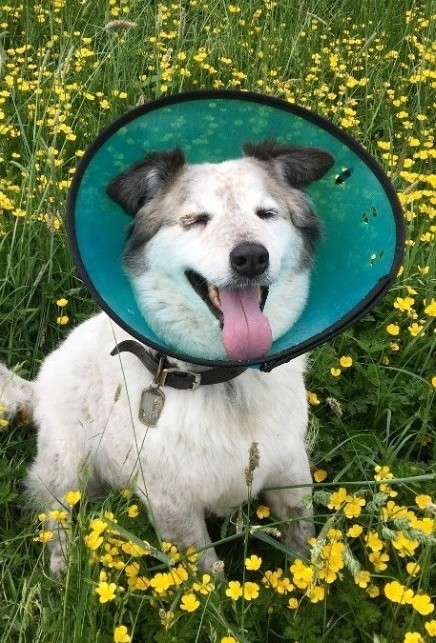 Wut ded I doo 2 deseerv dis? Myhoomans keep laffin at mee and iss notfare cuz haff de tym i cant heer dembecuz oof dis stoopid lamp sheed koneting. Leetle kyds laff at mee 2 'nd deyask der mooms wut's rong wif mee. Nuthin's rong wif mee!! Iss myhoomans who r dee stoopid ones fur pooting dis dumb ting on mi face. Mehbee DEY shood ware kones oof shame. See how dey lik eet. Mi eyeewuz dooin jest fyne. I scratcheds eetevery dey cuz dat made eet feel better. Daffney wuz nise to mee 'nd she gavme lots oof coodles and shee deedn'tlaff at mee like SUM PEEPLE.
May felt full and blooming and blessed, and once again we're just floored with gratitude. We are absolutely loving being back in the UK, and the more time we spend here, the more it feels like home.
Did you watch the Royal Wedding?